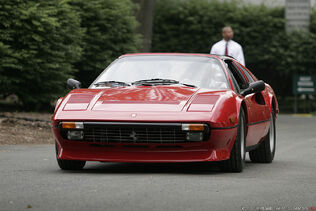 The 308 GTS joined the Ferrari model range at the 1977 Frankfurt Salon. Visually it was very similar to its 308 GTB berlinetta stable mate, apart from the black finished solid removable glass-fibre roof panel, and the satin black finished hinged opening louvre panels over the rear quarter windows. They were hinged to permit cleaning of the rear quarter glass, and the one on the left side also gave access to the fuel filler cap, and both were lockable. The "S" in the model title stood for "Spider", although as with the Dino 246 GTS, the spider title was a degree of artistic license, as it was in fact a targa top, with a roof panel that could be stowed behind the seats for open air motoring. As on the 308 GTB, a luggage compartment was provided in the tail of the car behind the engine bay, accessed by lifting the entire engine bay cover, which revealed a zip top luggage compartment at the rear. As with the 308 GTB berlinetta an optional deep front spoiler was available, as was the sports exhaust system, and high compression piston plus high lift camshaft package. A further option was 16" wheels fitted with Pirelli P7 low profile tyres.
The 308 GTS featured a steel body with an aluminium front lid, whilst USA market cars can be identified by heavier bumper assemblies, and rectangular side marker lights on the wings. The main European market 308 GTS models had a tubular steel chassis with factory type reference F 106 AS 100. Disc brakes, with independent suspension via wishbones, coil springs, and hydraulic shock absorbers, were provided all round, with front and rear anti roll bars. All models were numbered in the Ferrari odd number road car chassis sequence, with right and left hand drive available. Production ran from 1977 to 1980 in the chassis number range 22619 to 34501, during which time 3219 examples were produced, around 50% more than the concurrent 308 GTB model.
The V8 engine was identical to that used in the concurrent 308 GTB model, being of a 90 degree configuration, with belt driven twin overhead camshafts per bank, having a total capacity of 2926cc, with a bore and stroke of 81mm x 71mm, bearing factory type reference F 106 AB 000 for European market cars. The engine was transversely mounted in unit with the all synchromesh five speed transmission assembly, which was below, and to the rear of the engine's sump. It was fitted with a bank of four twin choke Weber 40 DCNF carburettors, mounted in the centre of the vee, the exact specification depending upon the market, and power output was in the order of 255bhp. European market cars were fitted with dry sump lubrication, whereas Australian, Japanese and USA market examples had wet sump lubrication.