Jurassic World: Dominion Dominates Fandom Wikis - The Loop
Play Sound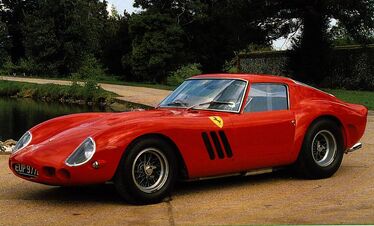 "Aerodynamics are for people who can't build engines."- Enzo Ferrari.
The Ferrari 250 GTO is known as the most extraordinary and maybe the most beautiful and unique supercar ever made. Built from 1962-1964, only 39 of these beauties were made, and all of them are suprisingly still in good shape. The most fascinating thing about this supercar is that all of the 39 models are somehow different. None of the models are exactly the same! It has been said that the Ferrari 250 GTO was the first supercar ever made.
History
[
]
The Ferrari 250 GTO was designed mainly to compete in GT racing, and was created by the famous Sergio Scaglietti, with the help of Giotto Bizzarini, although Enzo Ferrari later fired him. The 250 GTO was based on the 250 SWB, even though Bizzarini installed a 3.0 L V12 engine from the Testa Rossa producing 300 horsepower. The rest of the 250 GTO is made up of 1960- Ferrari technology, and many of the switches came from the Fiat 500, and had a 5 speed gear-box designed by Porsche, with their advanced technology.
Production
[
]
The 250 GTO had two types, the Series 1 and Series 2. The Series 1 was in production from 1962-1963,making 36 of the 39 cars while the Series 2, with a different body design built only 4 of the 39 supercars in 1964. All of these Ferraris were used in races and gained great accomplishments, as Phil Hill and Oliver Gendebein almost won the 12 Hours of Sebring, finninshing second, but the 250 GTO gained three championship titles in the 2000cc class, winning in 1962, 1963 and 1964.
Today
[
]
In our present time, the Ferrari 250 GTO isn't only a beauty, but very rare and it's price is completely insane. It has been said that a Brittish buyer had bought the 250 GTO at £15.7 million in auction! There are rumours that this car has been sold for more than 50 million, but it's most possibly an exageration. The good thing is that all of these are with their rightful owners, still alive and ready to be driven.
Ferrari 250 GTO by Chassis #
[
]
Prototype:
[
]
2643GT-The Ferrari 250 GTO prototype used in Le Mans.
Series 1:
[
]
3223GT
3387GT
3413GT
3445GT
3451GT
3505GT
3527GT
3589GT
3607GT
3647GT
3705GT
3729GT
3757GT- Brittish drummist from Pink Floyd, Nick Mason owns chassis 3757GT
3767GT
3769GT
3809GT
3851GT
3869GT
3909GT
3943GT
3987GT- Ralph Lauren, an American fashion designer, owns chassis 3987GT
4091GT
4115GT
4153GT
4219GT
4293GT
4399GT
4491GT
4675GT chris evans bought for $18mill usd approx, 2010
4713GT
4757GT
5095GT
5111GT
Ferrari 330 GTO:
[
]
3765GT
4561GT
Series 2:
[
]
5571GT
5573GT
LMB Bodywork:
[
]
5575GT-The last Ferrari 250 GTO ever made. It has a different body style than the other GTO's.